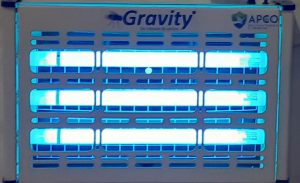 Gravity is the ultimate fly catcher which works on the principal of Ultra Violet Light.( UV). UV light attracts all flying insects which in turn are trapped in Glue boards placed behind the lamps thereby eliminating chances of fly debris falling out of the machines. It is noiseless and works silently. Gravity is aesthetically designed and can be used in all kinds of industries in critical areas where there is zero tolerance for flies and concern for fly debris and fragmentation associated with fly killers. Food , Pharma and hospitality are some of the industries where Gravity could be the right choice.
Gravity is available in two models with two and three tubes. The above models are available with plain as well as shatter proof ( sleeved) tubes.
Gravity is backed by a good after sales service and availability of spares and consumable too are ensured.